Empower BYOD with the DaaS Alternative
Venn LocalZone™ is the secure workspace that isolates and protects work from any personal use on the same computer. Learn how Venn can protect your remote workforce with the new Desktop as a Service alternative in a demo today!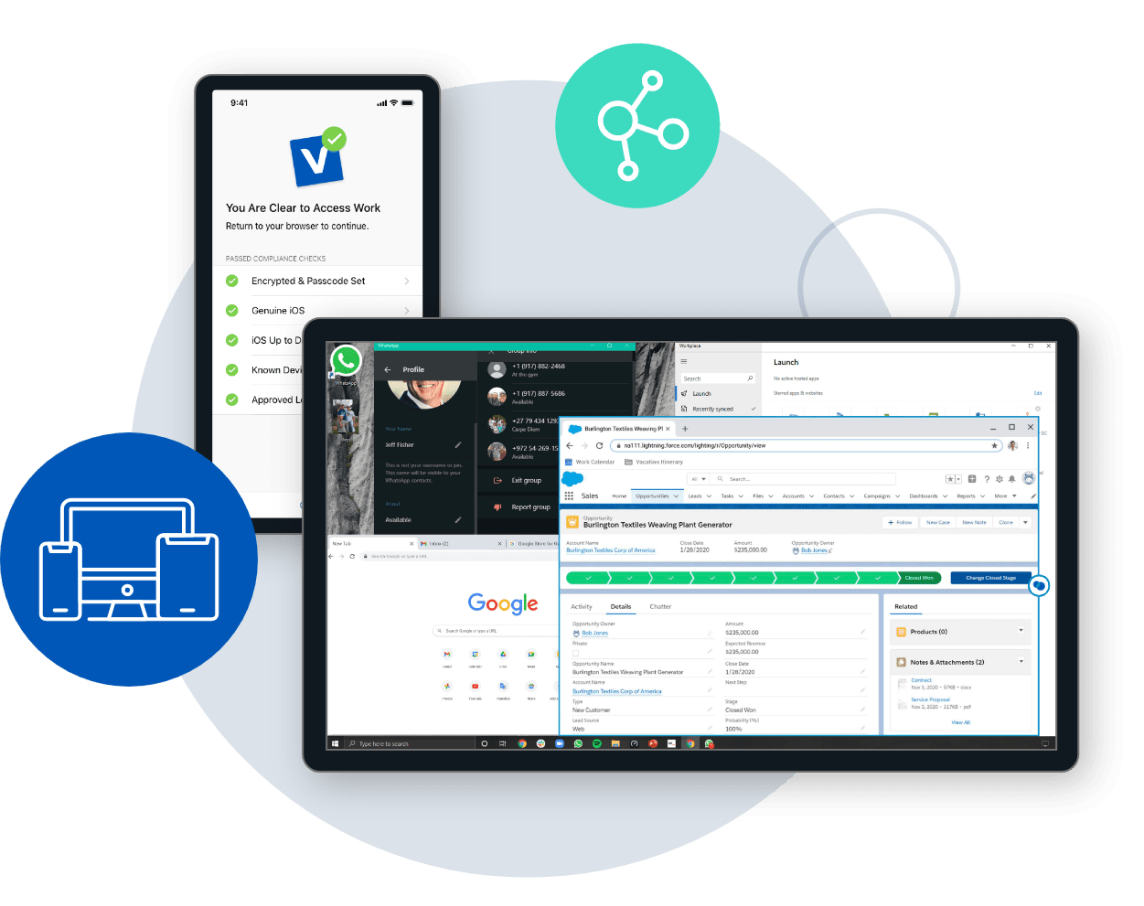 A Better Alternative to Desktop as a Service
What is a Desktop as a Service or DaaS, in short? DaaS is the delivery of a virtual desktop to end users over the Internet, usually through a licensed subscription. Many BYOD solutions today consist of a traditional virtual desktop (VDI) or DaaS. However, with increase usage of SaaS apps and video conferencing tools, users are frustrated by low productivity levels and poor user experience in these hosted environments.
That's why we invented Venn – the industry's first DaaS Alternative that enables users to work locally in a secure enclave on any devices they want. The simple turnkey solution replaces the cost and complexity of legacy virtual desktop technologies and gives IT administrators the flexibility to implement robust data loss prevention controls inside the enclave.
Empower your remote workforce with our breakthrough technology called LocalZone™.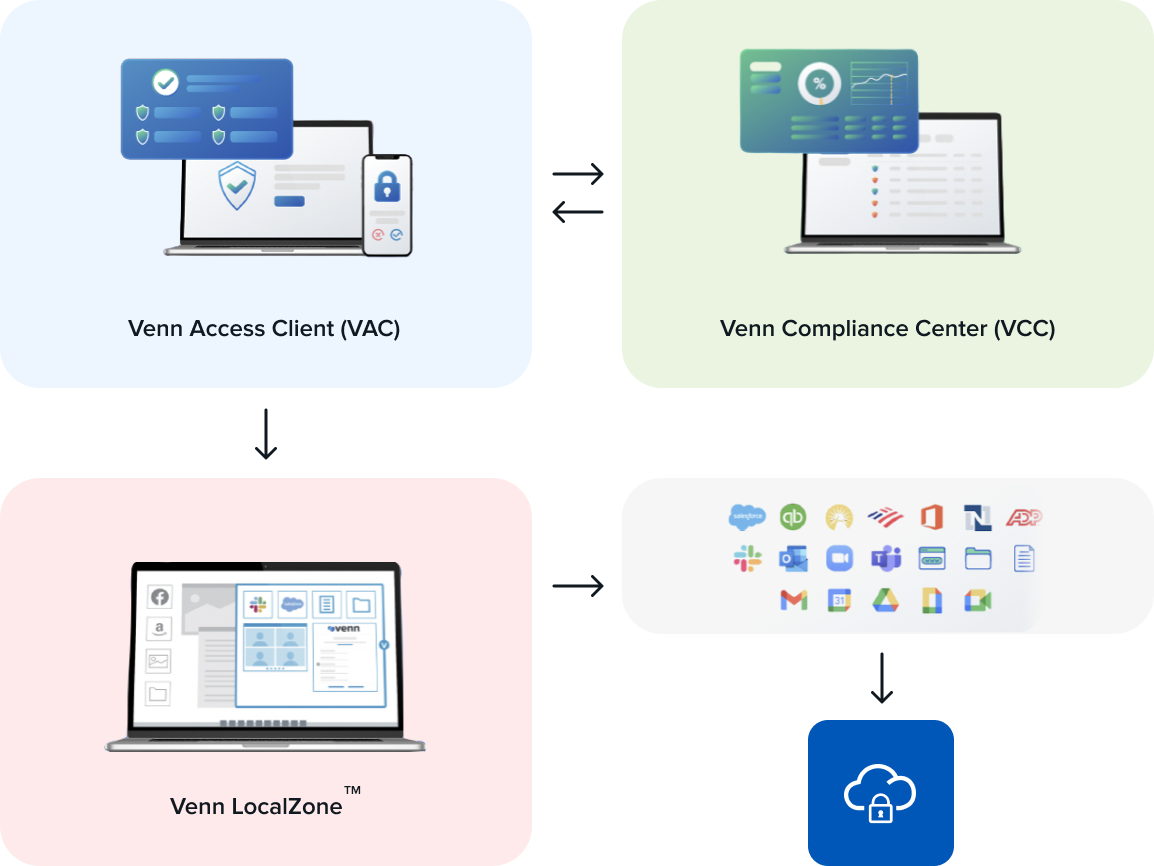 Here's How It Works
1. Access Client to Check User Access
Venn leverages MFA and comprehensive device compliance checks to control user access to work apps and files running in LocalZone continuously.
2. Compliance Center for User Audits
IT departments can enforce technical controls, complete with audit-ready reporting through Venn's onboarding, administration, and monitoring engine.
3. LocalZone Empowers User Productivity
Your users will work within LocalZone, a smart, secure perimeter that protects local work apps, files and data separate from personal computing. User work apps are badged, providing a visual cue on your client's active DLP policy.
4. Failsafe Access through Remote Hosting
Venn provides failsafe access and custom app hosting requirements through highly secured public cloud infrastructure to meet all your needs.
Next Generation Security
for the New Workforce
Venn Zero Trust Platform helps businesses safely empower their employees to work better, and live better.

Security First
Protect company apps and data from malicious exfiltration, compromise or loss.

Low Cost
Reduce or eliminate the cost and complexity of buying, managing and securing PCs or VDI.

User Convenience
Enable users to have a single computer with clear sepration between work and personal uses.

Precise Control
Robust administrative controls and IT policies inside the enclave over apps and user activities.

Easy Deployment
Provides turnkey out of the box setup or integrates with existing infrastructure.
Modern Endpoint Security with Maximum Productivity
Venn combines a Zero Trust security architecture with its breakthrough LocalZone technology to allow users to access sensitive work applications and data locally on their devices. Check out our solutions comparison matrix to evaluate our product offerings and see where we stand against other competitors.
VENN
Unified
Workspace
VDI/DaaS
Office
Suite
UEM
SECURED
BROWSER
Unified app launcher
Endpoint device assessment & compliance
Separate work and personal computing
Gated access to work apps, files and data
Data leakage and loss prevention (DLP)
Separate, control and protect work-related network traffic from personal through a dedicated gateway with IP restrictions
Shield against active malware (including ransomware) and zero-day vulnerabilities
Device-native experience and support including mobile device parity
Personal privacy assurance
Compliance dashboard with comprehensive audit trall
You're in Good Company
Find out why 700+ highly regulated firms depended on Venn to empower their users.

David Blisk, CEO,
SPIRE Investment Partners
"By using Venn, we can leverage our time and talent to help our advisors be more successful. The solution helps Spire and our advisors compete with larger firms by leveraging the same technology and levels of security."

Eileen Friestad, President, CWP Management, Inc.
"It was an answer to our prayers. Everyone is so happy with it. We did the right thing and I can't see a downside for our users and IT team. This gives our employees the flexibility, and it's just a seamless arrangement for our business."

Gary Schafer, COO,
Atlanta Consulting Group
"The Venn team were able to put a variety of applications into Venn that made for easy remote or mobile computing, and their installations were flawless. The system works seamlessly, far better than anything we have had in the past."
Compliance with Industry Standards
Venn ensures compliance with all current cybersecurity regulations which require development and implementation of mandatory policies, principles, standards and guidelines.