See What's Under the Hood
Nobody has time to go through multiple discovery calls before they're shown the real product.
That's why we're taking you on a product tour.
Schedule a Live Demo
You did your research. You've seen enough.
Let's get you the real thing. Our team of experts is ready when you are.

---

Built for Remote Workforce and BYODs
Venn is the secure workspace that isolates and protects work from any personal use on the same computer by creating a secure, local enclave. The simple turnkey solution can replace the cost and complexity of legacy virtual desktop technologies.

Simplicity
Venn enables users to work locally on a single computer of their choice and at anywhere.
Security
Venn protects work files and data from accidental or malicious exfiltration, compromise or loss.
Cost
Venn eliminates the cost and complexities of infrastructure, implementation and maintenance.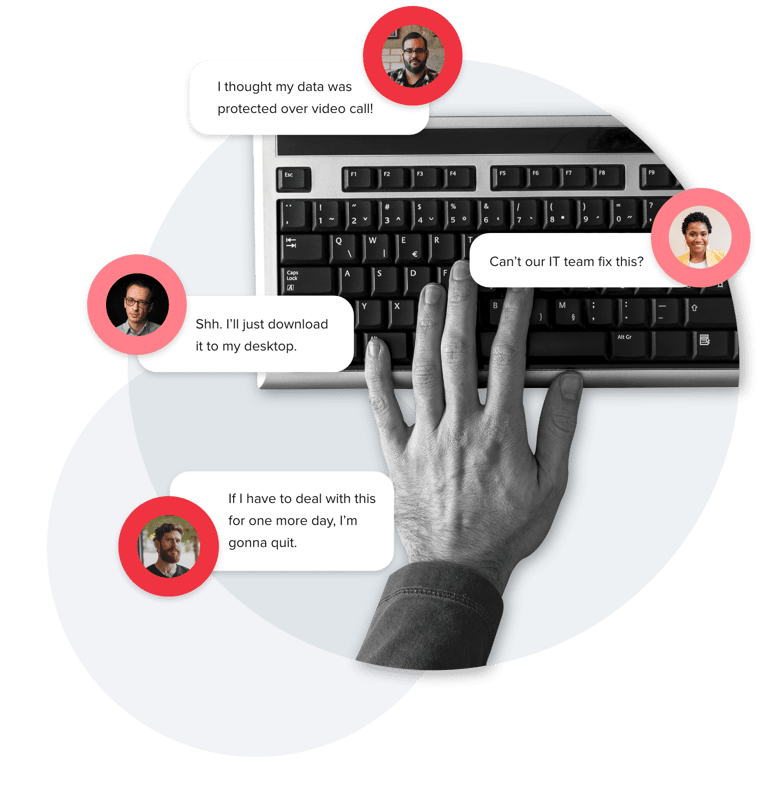 New Hybrid Culture Marks the End of Legacy VDI
According to a Venn/Harris Poll study, nearly 71% of employed Americans have bypassed their company's IT policy to be more productive. Technology leaders are recognizing that traditional virtual desktops are falling short. The pitfalls of legacy VDI solutions:
Opportunities for user workarounds
Don't Take Our Word for It
700+ regulated firms depend on Venn to protect and empower tens of thousands of users.

"By using Venn, we can leverage our time and talent to help our advisors be more successful. The solution helps Spire and our advisors compete with larger firms by leveraging the same technology and levels of security."
- David Blisk, CEO, SPIRE Investment Partners

"The Venn team were able to put a variety of applications into Venn that made for easy remote or mobile computer, and their installations were flawless. The system works seamlessly, far better than anything we have had in the past."
- Gary Schafer, COO, Atlanta Consulting Group

"It was an answer to our prayers. Everyone is so happy with it. We did the right thing and I can't see a downside. This gives our employees the flexibility, and it's just a seamless arrangement."
- Eileen Friestad, President, CWP Management, Inc.







Compliance with Industry Standards
Venn ensures compliance with all current cybersecurity regulations which require development and implementation of mandatory policies, principles, standards and guidelines.